Support NC FarmLink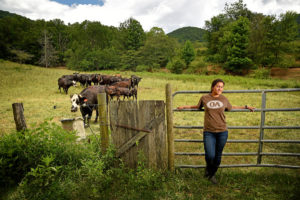 With the average age of farmers in NC at 59.6 and an estimated 705,000 acres (9.5% of all NC farmland) that will transition ownership from 2015 and 2019, NC FarmLink needs to work fast.
As of January 1, 2019, we have 1,630 clients who are seeking a farming opportunity. Some are ready to purchase land, while others seek lease, mentorship, apprenticeship, business partnership, or employment. On the other hand, we only have 88 farm opportunities in our system. The program has successfully matched 42 farmers with landowners since 2014. See our Success Stories page for more information on our fascinating landowner/farmer matches.
NC FarmLink receives core funding from NC State Extension. With your help, we could do so much more, including outreach programs, greater one on one farm transition coaching and guidance, as well as
If you value this program, we would appreciate your financial support. Become a Friend of NC FarmLink and make your contribution or print out this form and mail it in with your check. Thank you for your support!