NC Farmlink Successes
1) Bernadette Pelissier and Van Bennett match up with Keith and Megan Marshall to farm their 92 acre farm in Cedar Grove on Orange County NC.
"We bought our 92 acre farm with the intention of putting fallow farmland in Cedar Grove back into production using organic methods and assisting young farmers. We had no idea how many people would respond via NC FarmLink, particularly since we wanted someone who had experience farming. We were so fortunate to find Keith and Megan Marshall, who were an ideal match. Within less than a year they have been very successful: they're selling their varied produce at markets, to restaurants and to our local food co-op where we shop."
2) NC State University alum match up with landowner in Montgomery County to realize their farming dream of growing hemp for CBD oil production.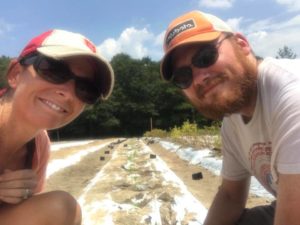 "They aren't going to make any more land, especially the land you grew up on," thought Mary Jo Shuping when she recently bought 140-acre Oak Bluff Farm from her grandmother in Montgomery County, NC. A traveling RN at the time, Mary Jo came back to North Carolina from Texas when her father died unexpectedly and bought the family farm from her grandmother who had made up her mind to auction it off. However, Mary Jo currently fills a vital role in the operating room at the Randolph Health Hospital in Asheboro, and she does not have the time or energy to keep the farm productive. Wondering how she might manage the farm, Mary Jo did what we all do when we have questions about what to do next, she got on the internet. NC FarmLink, a program of NC State Extension, was first on the search results when she typed in "rent farmland NC". Mary Jo created a farm profile on October 25, 2018, and waited to see what would happen.
About an hour away in Apex, NC, John and Jessica Rowe were keeping an eye on the NC FarmLink site to see if the right opportunity would present itself for them to pursue their dream of farming hemp. "When I found NC FarmLink and saw that it was run by NC State Extension I bookmarked it," noted John. "It's such a great resource, and just the fact that it was run by NC State Extension was comforting. When we saw Mary Jo's farm we quickly called her and set up a meeting."  The three hit it off immediately and commenced to draft a 1-year lease agreement with an option to renew as a starting point for John and Jessica to use the existing greenhouse frames and a four-acre field.
Read the rest of the article about John, Jessica, and Mary Jo here.
3) Mark Scearce and Nicole Thoennes of Dharma Creek Farm lease land from the Bondurant family in the Beaverdam Valley of Haywood County.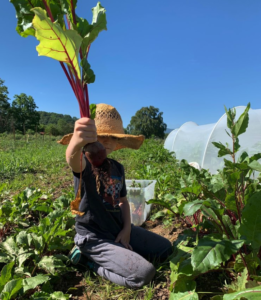 When Mark Scearce and Nicole Thoennes were living in Chicago and Los Angeles writing and performing music for television and advertising, the last place they imagined themselves ending up was to be farming vegetables and flowers in the Beaverdam Valley of Haywood County. Today, Mark and Nicole, who married in 2012, and their two children Nelson (6) and Rose (3), have a bustling business growing vegetables and flowers for their CSA , selling primarily to their customers in Asheville. Mark and Nicole lease 3 acres of prime bottomland from Mr. Bondurant where they operate and manage Dharma Creek Farm. Mark and the landowner found each other on NC FarmLink.
Mark Scearce was kind enough to spend some time with me on the phone to be interviewed for this article. Read the full article here.
4) Will and Savannah Salley of Headwaters Market Garden set up at Southern Appalachian Highlands Conservancy's Incubator Farm which they found through NC FarmLink.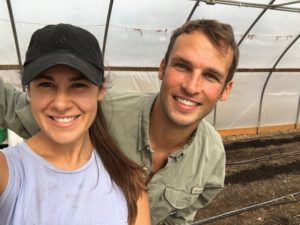 After meeting each other and getting married in Maui, Hawaii in 2014, Will and Savannah sold everything they had, bought one-way tickets to California, bought a car, and drove to western North Carolina where they both have family roots. Will's grandmother grew up farming peaches around Saluda, NC and Savannah's father's family is from the Boone/Deep Gap area. Savannah's maiden name is Watson, and yes she is kin to legendary guitarist and singer Doc Watson. Read the full article about Will and Savannah here.