What Is a Fair Rental Rate for Farmland?
Find this article at:
go.ncsu.edu/readext?664125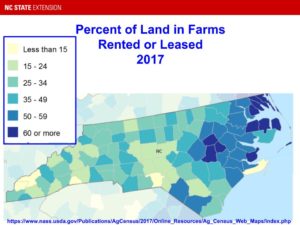 (Updated July 8, 2021)
One of the most common questions we get at NC FarmLink is "What is a fair rental rate for this farmland?" According to the 2017 USDA Ag Census, NC farmers leased 3,533,542 acres from other landowners. Written leases are strongly recommended because they provide security to both the landowner and the farmer. A written lease makes the terms of the lease clear and defensible in the event of a land transfer or farm sale. 
NC farmland rental rates can vary widely from $30 to $285 per acre for cropland, with most pastureland rent from $15 to $50 per acre. In some situations, landowners may offer a no-cost lease to farmers who agree to keep the land in production.
Land rent can vary according to:
1. Type of land. Pasture land vs crop land. In general, rent for tillable land is usually higher than for hayland and pasture land.
2. Type of soil. Soil texture, soil drainage, and available water holding capacity can greatly affect the productivity of soil and therefore can impact farm activities and resulting profitability or farm enterprises.
3. Type of operation. A farmer engaged in intensive vegetable production may pay a higher cash rent per acre than a row crop farmer growing corn, wheat, and soybeans. Operations with grazing livestock usually pay the least.
4. Buildings and other infrastructure. Buildings, including homes, barns, and greenhouses have a higher cost of ownership for the landowner and are accordingly often rented for more money. Fencing and water for grazing livestock can also add value to a rental rate.
Landowners who rent their land to farms may be able to maintain Present Use Value reduced tax rate with documentation that the farmer that rents the land produces at least $3,000 in product value over a three year period.
Read more at: https://ncfarmlink.ces.ncsu.edu/leases-renting/
NC FarmLink is pleased to share this new web resource on "Leases & Renting." It has some useful guidance and data that may be helpful to develop your own lease and rental parameters.