Rare Farm Transition Opportunity: Orange County 12 Ac Turnkey Operation + Farmhouse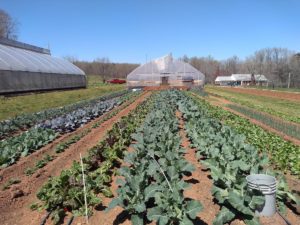 Take a careful look at this operating vegetable farm & nursery on 12 acres with great infrastructure including 2 greenhouses, 2 – 34 x 96 movable high tunnels, pole barn, shop, sheds, irrigation system, pack shed with concrete floor. Also offers a contemporary 3 BR, 1.5 bath, open floor plan passive solar house, screened porches, & wood heat. Beautiful woods and river frontage with lots of
marketing opportunities in the area. See more at NC FarmLink.